Extensive networks expats estate agent
When it comes to selling your property, an expat estate agent knows how to get the best price. They have extensive networks of contacts all over the world, and they can market your home to potential buyers in countries all over the globe. Whether you are looking to sell your home fast or want to maximise your profits, these agents can help you achieve your goals.
An Expat estate agent understands the unique needs and preferences of expatriates. They possess in-depth knowledge of the local real estate market, including the legal and cultural nuances that may impact property transactions. This expertise allows them to guide expats through every step of the property journey, from property search and viewings to negotiation and contract signing.
At MND real estate we know that buying a new house or selling your old house can be a very exciting step. You would like to have someone who is knowledgeable and who tries to explain this to you as best as possible. At MND real estate, we ensure proper preparation and take you through the process. You are therefore well aware of what is happening, and we work together with a relaxed feeling. We kindly invite you to contact us and make an appointment.
What is an expat estate agent?
An Expat estate agent is a real estate professional who specializes in helping expatriates buy and sell property around the world. They have a deep understanding of the global real estate market and know the best ways to help expats find their dream home, whether they are moving for work or for retirement.
If you are an expat looking to buy or sell property, then you need an experienced estate agent by your side. The agents on our list have years of experience helping expats navigate the complex world of international real estate. They know the best places to buy property overseas, and they can help you find a home that meets all your needs, no matter where in the world you want to live.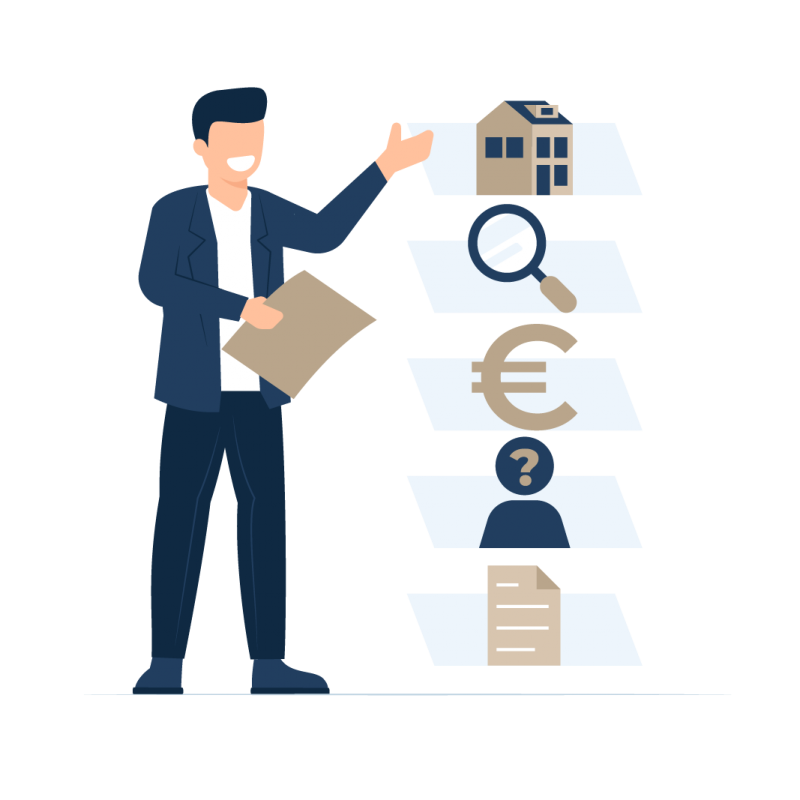 Introductory meeting to exchange ideas.
You want to buy a property? Then it is advisable to engage a purchasing agent from M&D Real Estate. Our purchasing agents are experts in buying and selling properties and are familiar with all the ins and outs. Before we begin, we would like to have a non-binding conversation with you. What kind of property do you want to buy? Are you buying alone or with a partner? What is the purpose of your purchase? We establish your preferences in advance, so that we have a clear profile and can provide you with suitable advice.
Why Choose M&D Real Estate
We are pleased to assist you
with the following services.
At M&D Real Estate, our expertise lies in the buying and selling of properties. In addition, we also offer appraisals and home staging services. We work closely with mortgage advisors to provide you with comprehensive support and assistance from start to finish.
The real estate market is constantly evolving with new trends, laws, regulations, and the emergence of new buyer segments. We stay updated on market changes by constantly researching and monitoring the market. This allows us to provide you with the most up-to-date information and insights. In short, the real estate agents at M&D Real Estate are the experts in the housing market.
GET QUICK AND FREE ADVICE
Would you like to
receive information
without any obligation?
We chose M&D Real Estate for our house hunting journey, and it was the best decision ever! Danish understood our preferences and, based on that, found our dream home in one go AND WE GOT IT! We could hardly believe it, but without him, it would have never been possible in such a short time. We could ask questions anytime, day or night, and received prompt responses. Danish relieved us of stress from beginning to end. The service provided was incredibly pleasant and professional. We highly recommend M&D Real Estate!
As we searched for a house in these challenging times, luck was on our side when we came across M&D Real Estate. Our experience with them can be summed up in one word: Amazing! Daanish stood by us through every progress and setback, advising, brainstorming, and empathizing with us. He was always reachable and ready to personally resolve any issues. Honesty and transparency truly matter to him, which is highly appreciated in these times. Once again, thank you for your dedication, and we are overjoyed with our new home.
Buying a house for the first time can be nerve-wracking. Finding a good real estate agent is the first step. We were fortunate enough to have a wonderful relationship with our agent. He listened to our wishes, which gave us a great sense of comfort. With the help of our agent, we found our dream home. Thank you!
After a pleasant introductory meeting, Danish started working as our purchasing agent. Thanks to his expert insight, we found the perfect home in Rotterdam in a short period of time! Danish also ensured that all my questions were answered, both on weekdays and weekends. He guided us step by step through the purchase agreement and explained the fine print whenever we had doubts. All in all, it was an extremely enjoyable experience, and we gladly recommend Danish!
We are incredibly impressed with the outstanding services we received from Danish Rahamat of M&D Real Estate. Danish was extraordinarily patient with us and arranged for third parties to help us understand our financial standing. He and his team are always there for you, kindly reminding you of every little detail you might forget. We are immensely grateful to Danish and his team of experts for their time, attention, understanding, and tremendous help in every aspect of this house search and purchase. We are more than happy to recommend Danish to our friends and families in the future.
We had an amazing experience with Danish and M&D Real Estate. I highly recommend this real estate agency to anyone looking to buy a home. Danish was extremely helpful, insightful, and had excellent knowledge of the current housing market.
Danish is simply excellent. We have no words to describe his dedication to his work and to his clients. We started our house hunting journey a few months before we discovered Danish. With his support, we found our dream home within a month. Day and night, Danish was always available for our questions, and sometimes the answers came after midnight, making us wonder if Danish ever sleeps! As he owns multiple properties himself, he understood our expectations as buyers very well and helped us find properties in our desired area and within our price range. Along with Danish and the financial advisor he recommended, the purchase process went smoothly, and today we are happy homeowners.
The communication with M&D Real Estate went smoothly, quickly, and professionally. Danish listens attentively to your preferences and acts accordingly. He explains everything step by step, allowing you to navigate the process without any worries. I would wholeheartedly recommend him!